Adelaide Art Photographers c.1970-200
Gary Sauer-Thompson and Adam Dutkiewicz
Moon Arrow Press 2019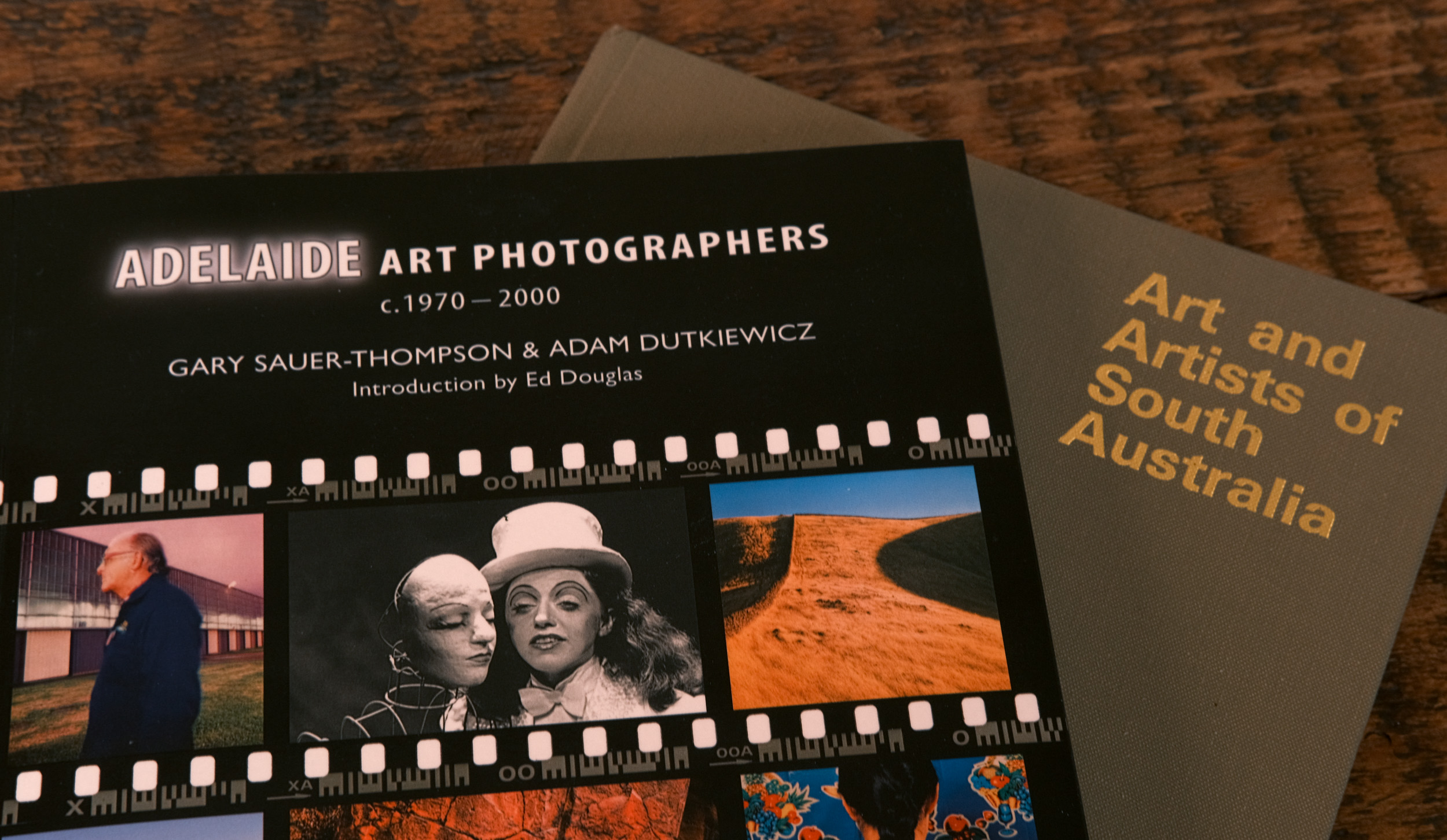 A couple of days before I received my review copy of Adelaide Art Photographers c.1970-2000 I came across a copy of Art and Artists of South Australia, written by Nancy Benko and published in 1969. This earlier book is described in its introduction by artist and critic Ivor Francis as "the first to collate available facts about South Australian art and artists."
Opening this 1969 book in 2020 conjured for me the heady perfume of European Modernism steeped in the hot eucalyptus scent of a South Australian summer. Of a Jacqueline Hick painting jostling with a Lawrence Daws, of a Bernard Hesling enamel next to a charcoal self portrait from a twenty-something Robert Hannaford. I thought of glass tumblers of hock sipped at exhibition openings and cigarettes smoked indoors.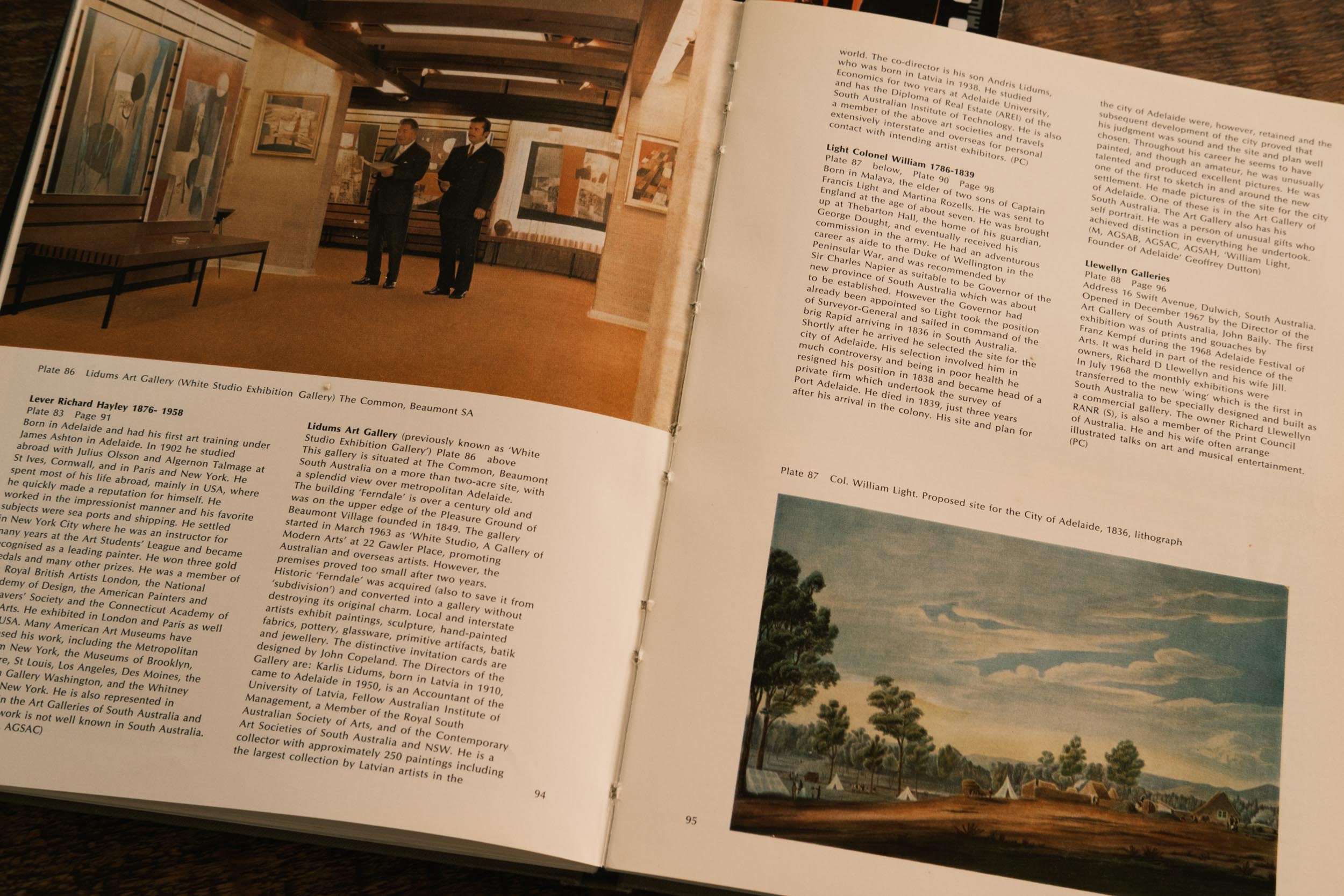 Why mention this book that was published 50 years ago when it's not the one under review? Well, the parallels between these two are many. Both books are catalogues of South Australian working artists, both are firsts in their field and both rely on information provided by the artists and are thus necessarily subjective. 
The phrase "collate available facts" that Ivor Francis uses is apposite also. Who's in, who's out? Why is such-and-such not here?  In their prefaces both Benko and Dutkiewicz describe how the information included in these books was sought and collected, and what editorial decisions were made and their rationales for those decisions. There are many more similarities between these two books than there are differences.
But, as delightful as Art and Artists of South Australia may be, we must move on, as this book mentions no artists working in photography in SA when it was published in 1969. Fortunately, by 1970 when the survey by Sauer-Thompson and Dutkiewicz begins, art photography was ticking over nicely. That must have been a very busy twelve months. Clearly I'm not being serious here, but the acceptance of photography as a legitimate art form for exhibition is central to our narrative.
A bridge – and perhaps an insight – is provided by the inclusion in the earlier book of Stan Ostoja-Kotkowski, a highly prolific artist who worked in many media, most famously perhaps with electronically generated images. His entry in the 1969 book mentions prizes won for his photography but does not refer specifically to his photography as art. In contrast, of the twenty photographers profiled in Adelaide Art Photographers c. 1970-2000, eleven have works in the collection of the Art Gallery of South Australia. So what happened? 
In a 1985 interview with Dean Bruton, South Australian filmmaker Ian Davidson suggests that he himself was the first person to have a photograph accepted for exhibition by South Australia's Contemporary Art Society (CAS) some time in the 1950s, a year after the CAS committee rejected a photograph by John Walpole. Davidson speaks of a filmmaking collaboration with Stan Ostoja-Kotkowski featuring seven Adelaide artists and how that project forged bonds between film and painting and would strengthen ties and facilitate the adoption of trends from Europe and the US.
I recall David Bailey in an interview saying, "What's an art photographer anyway? You don't say you're an art sculptor, you're just a sculptor." Adam Duktiewicz helps us out in his preface with the idea that art photography "gravitates around self-directed aesthetic and conceptual dimensions that speak to the artist's taste, intellectual pursuits and awareness of traditions and ideas in art and photography and popular culture." Perhaps we could augment this by saying that the photographers represented in this book have furthermore engaged with an arts and academic community by exhibiting, teaching and association.
The introduction to the book is written by Ed Douglas, who established and headed the first department of photography at the South Australian School of Art in 1977. He speaks of bringing an awareness of overseas acceptance and developments in photography to South Australia, where now for the first time photography could form a part of a visual arts degree on the same footing as painting, sculpture and printmaking. It is easy to liken the department in those early days to Gatsby's swimming pool, as it seems many of the artists represented in this book passed through it in a time which from our 2020 viewpoint seems vibrant, exotic and distant. The span of this book's survey 1970 to 2000 is well chosen, as this was a time of progress and change in the arts. Ed Douglas also writes in his introduction that Australia and particularly South Australia had been lagging behind the US and Europe in its recognition of photography.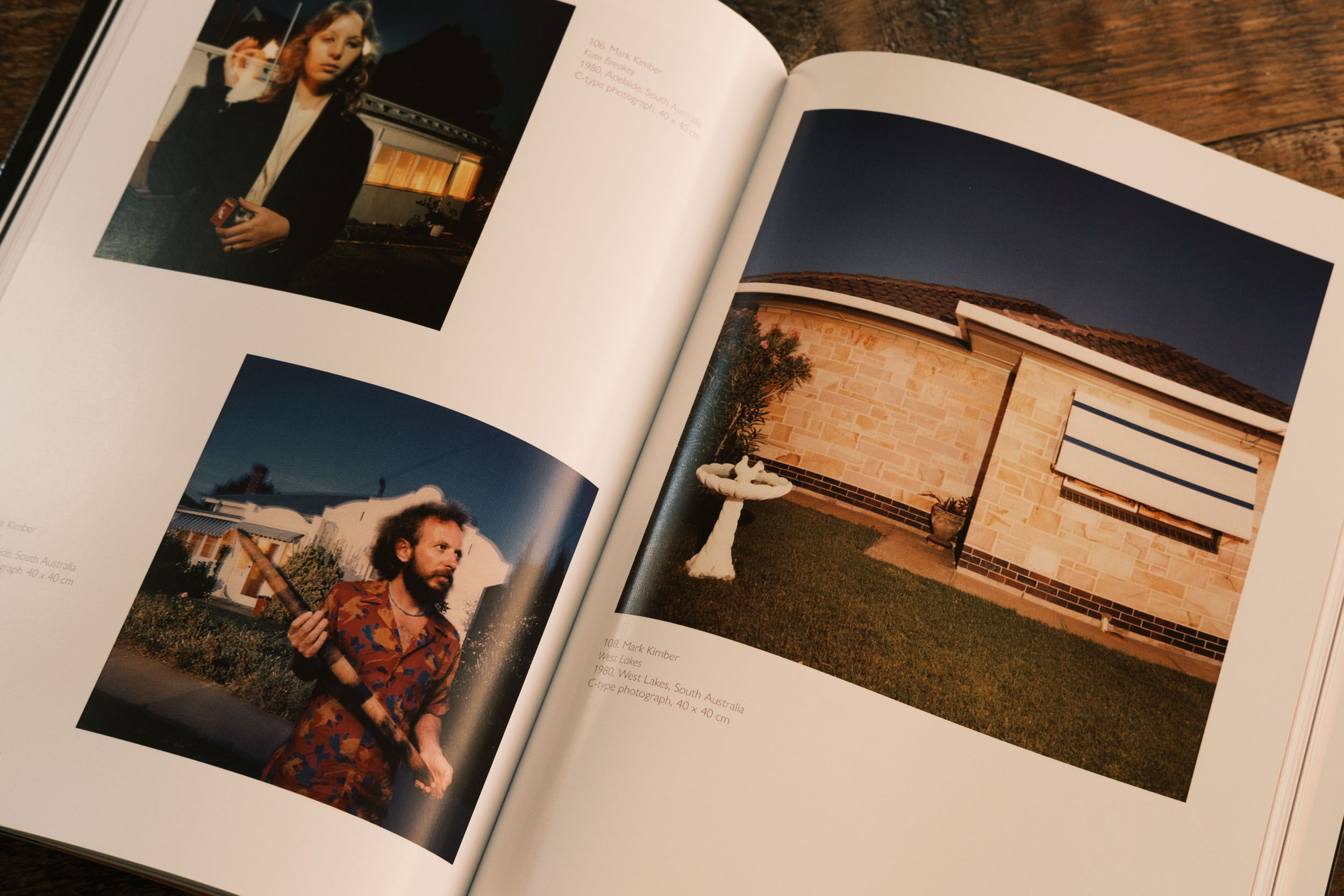 What follows is a survey of twenty Adelaide art photographers, each of whom is represented by six pages of work. As well as this, each photographer presents us with a single page containing biographical information and a statement about their work. It is a very well produced book with with a nice clean design. The quality of the paper, the reproductions and printing are all excellent. 
The book also contains a philosophically informed essay by Gary Sauer-Thompson which places what was happening in Australian art and art theory in the context of US and European activity and philosophical discourse, and then considers South Australia as a subset of what was happening elsewhere in Australia. The essay provides a survey, and a record, of the various art-philosophical discussions that took place in South Australia at the time and which led to the formation of the Experimental Art Foundation and Progressive Art Movement.
This essay is not for the faint of heart; it's written in a very dense academic style and is probably impenetrable to the general reader. Certainly I tried many times and failed to digest it, but grappling with it allowed me to see the book – and perhaps its purpose – more clearly.
The essay mirrored for me many of my own questions that formed from reading this book. What is included and excluded? Are omissions conscious exclusions or are they simply gaps? Of course these questions apply to any survey. As Sauer-Thompson posed them in relation to information previously available on art photography in South Australia, I was forced to apply the same logic in my consideration of this book.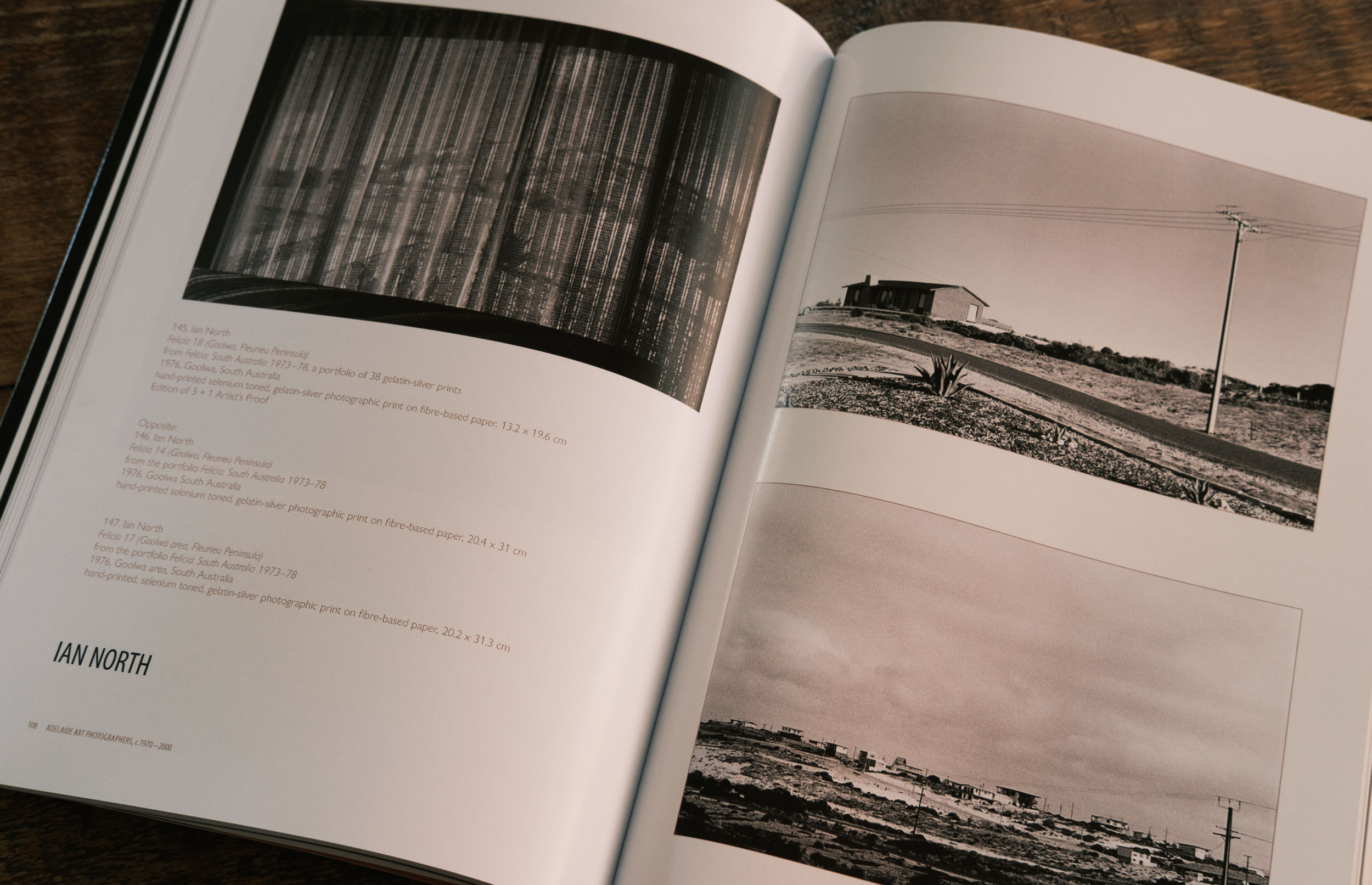 In summing up I'd like to reintroduce my comparison with the earlier book, Art and Artists of South Australia. Both are books that record a moment in time; they are written while the artists referred to are alive and can speak for themselves. Both mark periods of transition, as we are entering now a time when books such as this are less likely to be written; where ephemeral collaborative online projects are more likely than fixed physical surveys. In placing one freshly minted work alongside another from 50 years ago I wonder what another 50 years will bring, and how Adelaide Art Photographers c. 1970-2000 will appear then. 
To close, I cannot do better than borrow the assessment of Ivor Francis in his foreword to the earlier book; here we have "an assemblage of data that will grow in value with the passage of time."
David Hume 
December 2020
Review: Adelaide Art Photographers