Fleurieu, Perceptions of Place (2023)
Photographs made on the lands of the Kaurna and Ngarrindjeri peoples
Watch this space.
Work in progress, snippets and news:
For the exhibition resulting from the
Inaugural SALA Solo Photography Award.
27 JUL – 26 AUG 2023
PARTNERS:
– Atkins Lab and
– CCP
– SALA
Contact me with ideas, collaborations, or just to say hello, and pop back from time to time as the page and the exhibition evolve.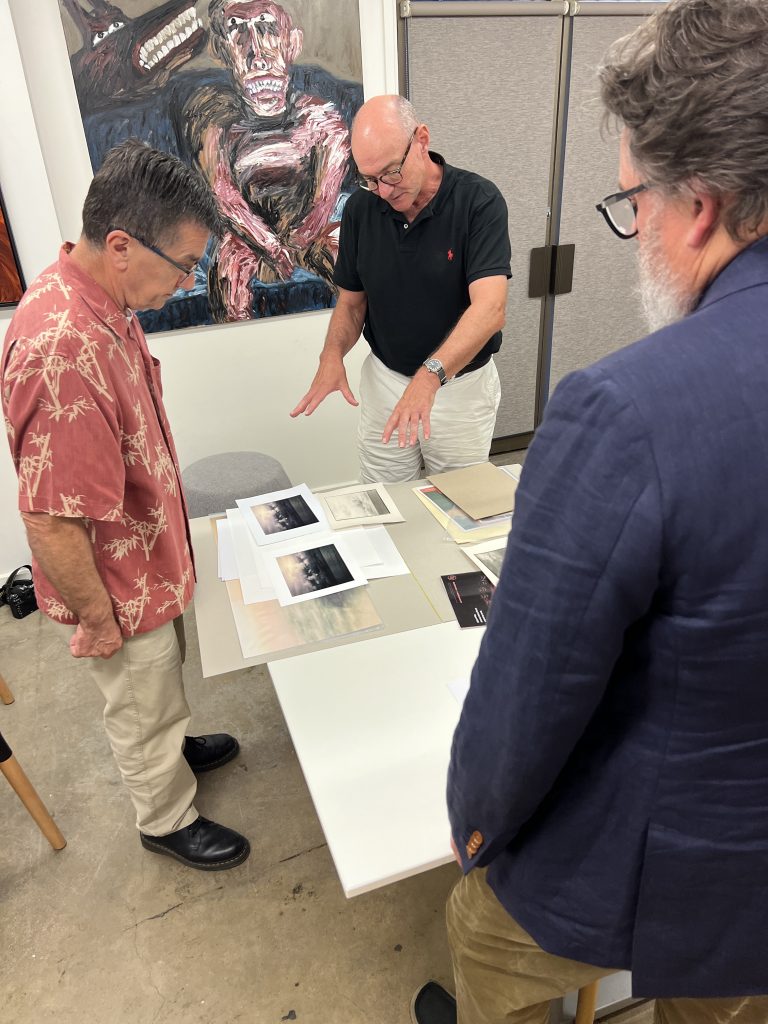 Why Fleurieu?
This is where I live. It's the place I know and belong. I remember the first time I came back home after travelling overseas and stood on the foothills overlooking the city and saw it differently. I had the strong feeling that it could not last as it was. Everything built seemed transitory; uncomfortably perched on a land that had not invited it to be there. Why Fleurieu? It is such an odd name. The name of a French Count applied to an ancient country for a tiny moment of its life. I wonder how much longer that name will be used.

Why Seascapes?
Seascapes are made of air and water; materials that are both transparent and colourless, and yet seascapes are full of colour. The way light reflects and scatters and diffracts gives the scene its colour and form. And to me that's the essence of a photograph, which records the way that light interacts with matter and uses that interaction to make a lasting image. I like seascapes because they're beautiful, but I also like them because they are so simple, just water, air and light.

Why Photography?
A photograph is partly a record and partly a construction. It is a process I love, that starts with an act of observation; looking deeply at a scene, analysing it and then imagining what it might become. Sometimes it's about waiting for a moment and fixing that moment in time so it is not lost. Other times it's about seeing a promise of beauty that might otherwise be overlooked and then using the tools of photography to make that promise visible.

The Video Piece
If you see a video artwork there is the temptation to watch it to the end, like a movie. You stand there waiting until it starts to repeat itself and then you stop watching because you can say you've seen it. I find this a rather disappointing way to look at art. Imagine if you went to Paris to see the Mona Lisa and when you came home your friends said, "Oh, you saw the Mona Lisa? How long did it run for? How did it end?" So I made an interactive two channel video that uses both a data projector and a 35mm slide projector. It is site-specific to the gallery and will be a different experience for each viewer.
The video piece speaks to a broader notion I have about exhibiting; there must be a point to it. The act of setting up two projectors in a dedicated room must offer a significantly deeper experience for the viewer than showing the work on YouTube. The video work also relates to other pieces in the exhibition and like those pieces it utilises both digital and analogue computing techniques.
Dear SALA UnitCare Services Digital Media Award Judges – Please contact me directly to be sent an explanatory pack and maquette, or to arrange a personal dicussion of the work: 0418817243 or davidatdavidhumedotnet
The work uses as a one channel video a data projection made by the analogue overlapping and subsequent analog animation of four seascapes that form part of the exhibition. In addition there is overlaid a 35mm slide projection and timer rotating through a carousel of 81 slide variations of the same images. Audience members in the video room cast shadows that change the piece, and this mirrors changing effects in other works in the exhibition. Thus the work provides an immersive experience that examines our interaction with the increasing ubiquitous digital video medium by inviting comparisons with out interactions with more traditional 2D artworks.
Below is a short proof of concept of the Channel A Video:
Below are a couple of very short proof of concept single channel animations. These are short samples of interactive video pieces done in Processing as part of my Masters Studies, which then led me to consider more carefully the relationships between digital interactivity and our interactions with traditional artworks,
https://youtube.com/shorts/tVKs-Z4kmFM?feature=share
https://youtube.com/shorts/paIM9Vtlz-A?feature=share