This is a series completed during 2016-17.
Could we say that any painting an artist paints contains elements of self portraiture? Even a landscape with no figure in it?
The "figure" in these landscapes is, of course, the artist.
Rather than try to develop these ideas and rationale in a  traditional artist's statement I've written a work of fiction whose development has run in parallel with the development of the paintings. To do this I've taken the form of Plato's dialogues to record fictional sessions between an artist and his therapist, as the artist struggles to develop new work.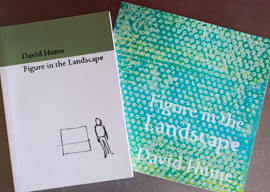 The paintings are now complete, and form the "Landscape with Dog" exhibition held jointly with Rod Bax. Details Here
The series of  works is shown below. All works are acrylic on galvanised steel, 75cm x 75 cm. Price $2000.
Click thumbnails to view works.