Lee Salomone is a South Australian visual artist who works across different media including installation, sculpture, photography and works on paper. I came across his photographic work in 2021 in a solo exhibition "Stillness" held as part of the SALA festival.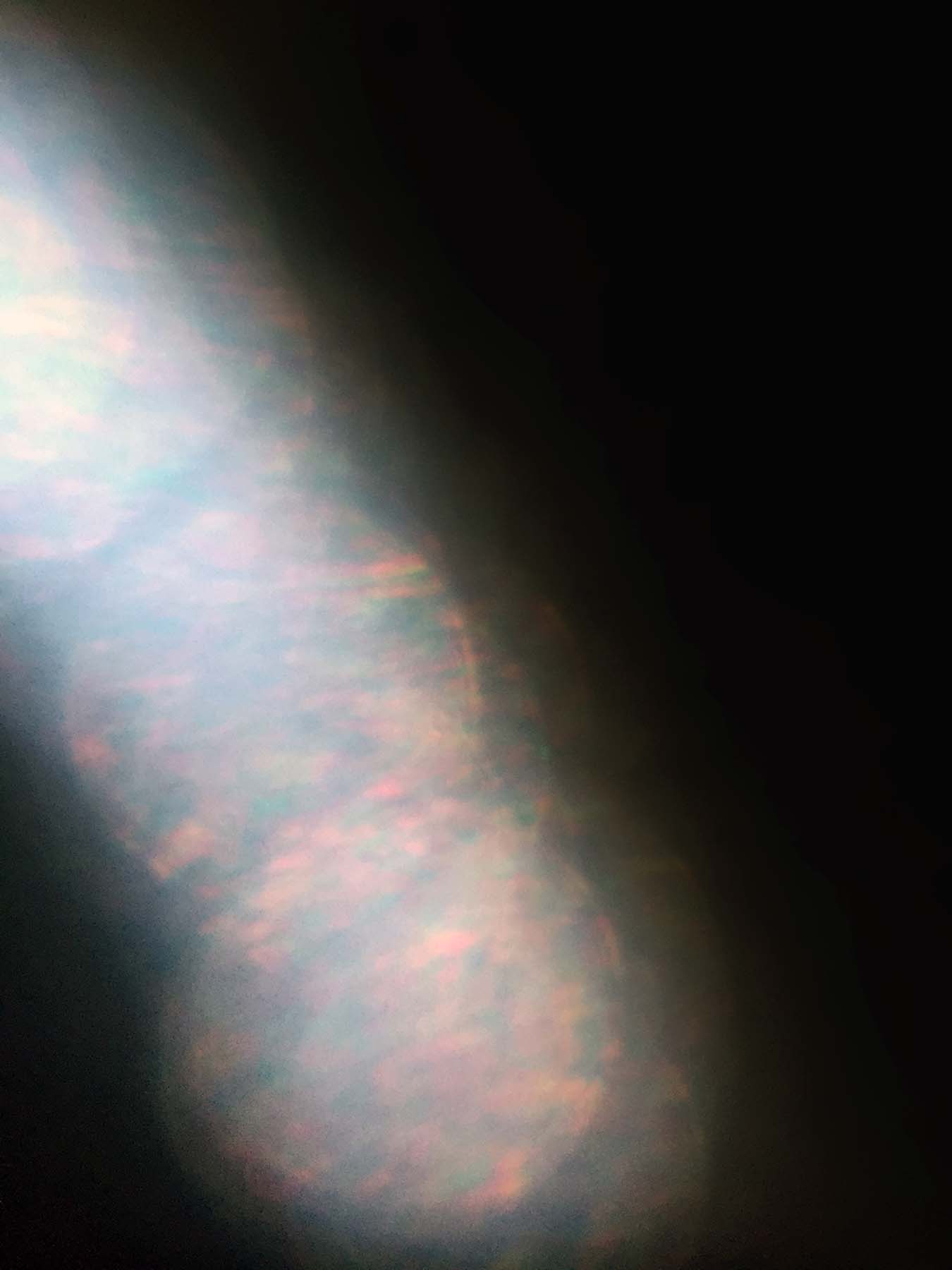 Lee – can we start with you telling me a bit about this work please?
"I was driving back from Melbourne after an exhibition, staying on a friend's property in the Wimmera, waiting for them to come home, and it was late light. I'd been for a swim and I was checking my phone on the banks of the Wimmera River, flicking between images of the exhibition and taking photos of the river, when on the blank screen of the cameraphone this image suddenly materialised. As I moved the phone, different images appeared, so I started recording them – capturing them as still photographs. This image window lasted fifteen minutes, and then all was gone. I was perplexed, but didn't think much more of it at the time, drove home the next day, unpacked, and slowly returned to Adelaide routine. Sometime later, as I looked through the images from that trip, I came across that batch of shots and realised what a distinct collection of chance images they were. From a specific place and time – autumn light on the banks of the Wimmera River, on the eve of the 14th March 2021, yet their abstract qualities unhooked them from this specificity, setting the images and interpretation free. I have thought about that suite of images a lot since and the conceptual conclusion that I have arrived at is, that poetry can always be found in the pauses of life."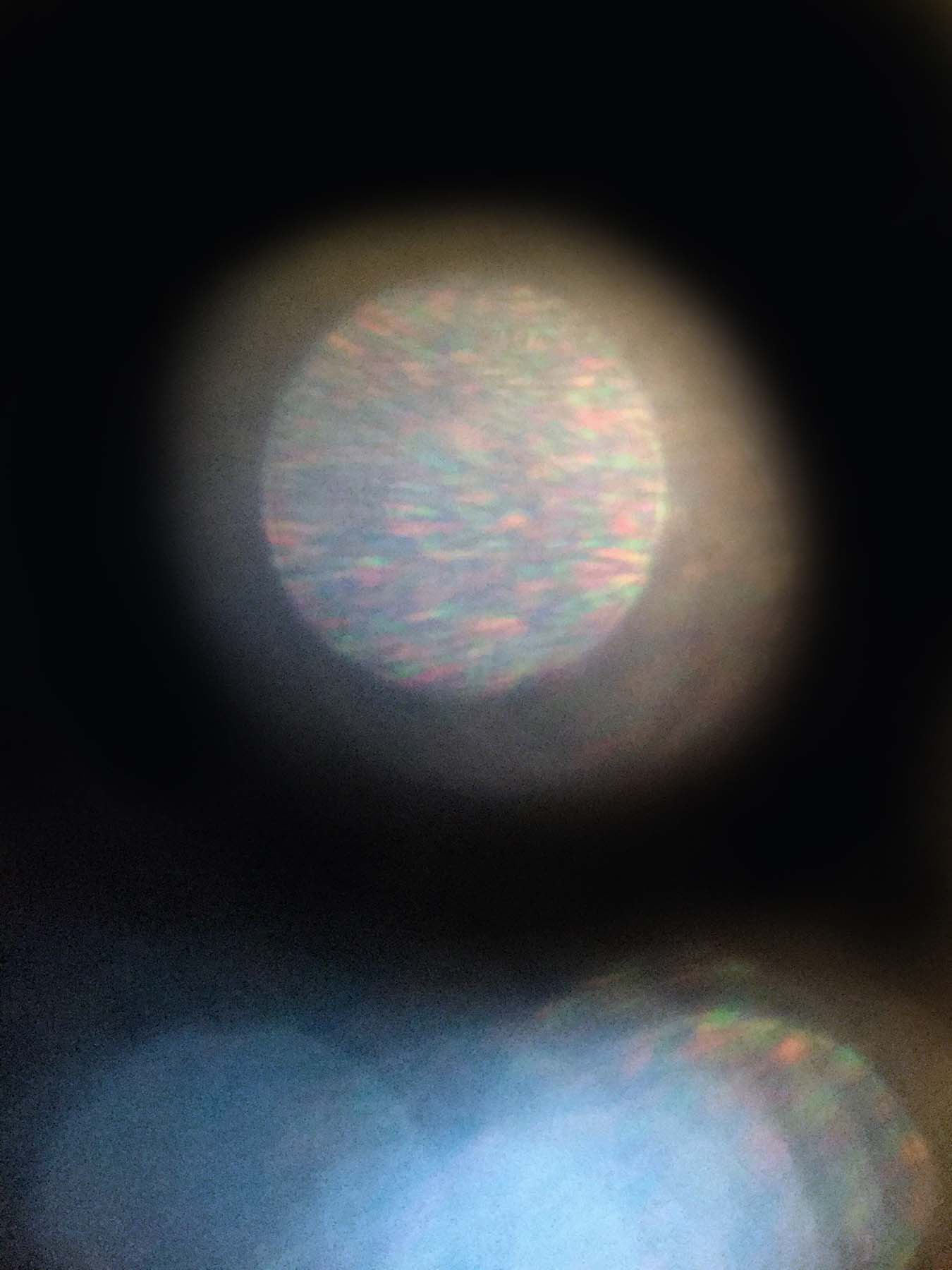 In your other practice – in your sculpture for example, I detect a process of using the found object as a starting point. Is this an example of that? It feels a bit like you've come across this unexpected experience of finding light and you've stored that away and then used it as the basis for some work…
"Finding light is a poetic way of recalling it David. Yes, I collect and use the found in my sculptural practice, and I see that series of images for Stillness as found light. There's a lovely story that my mother recalls of my grandfather walking with his three daughters in Australia, just after they'd emigrated, if he saw an old nail lying on the ground he'd say to them, "Pick up that nail – you never know when that may be of use." A lot of my practice utilises this chance-collecting ethos. There is an abundance of found object work in contemporary art, so much so, that even the term found object seems exhausted in 2022. I felt a need to evolve that part of my sculptural practice, make it unique, so over the past ten years I have introduced an element of the hand-made into my work. I feel it complements the found. I am finding that combining chance and craft is a rich area to work in."
When I was looking at the show you also showed me another tiny set of prints you'd made. I'd seen the ones on display on the wall, and then you showed me another set just a few centimetres across.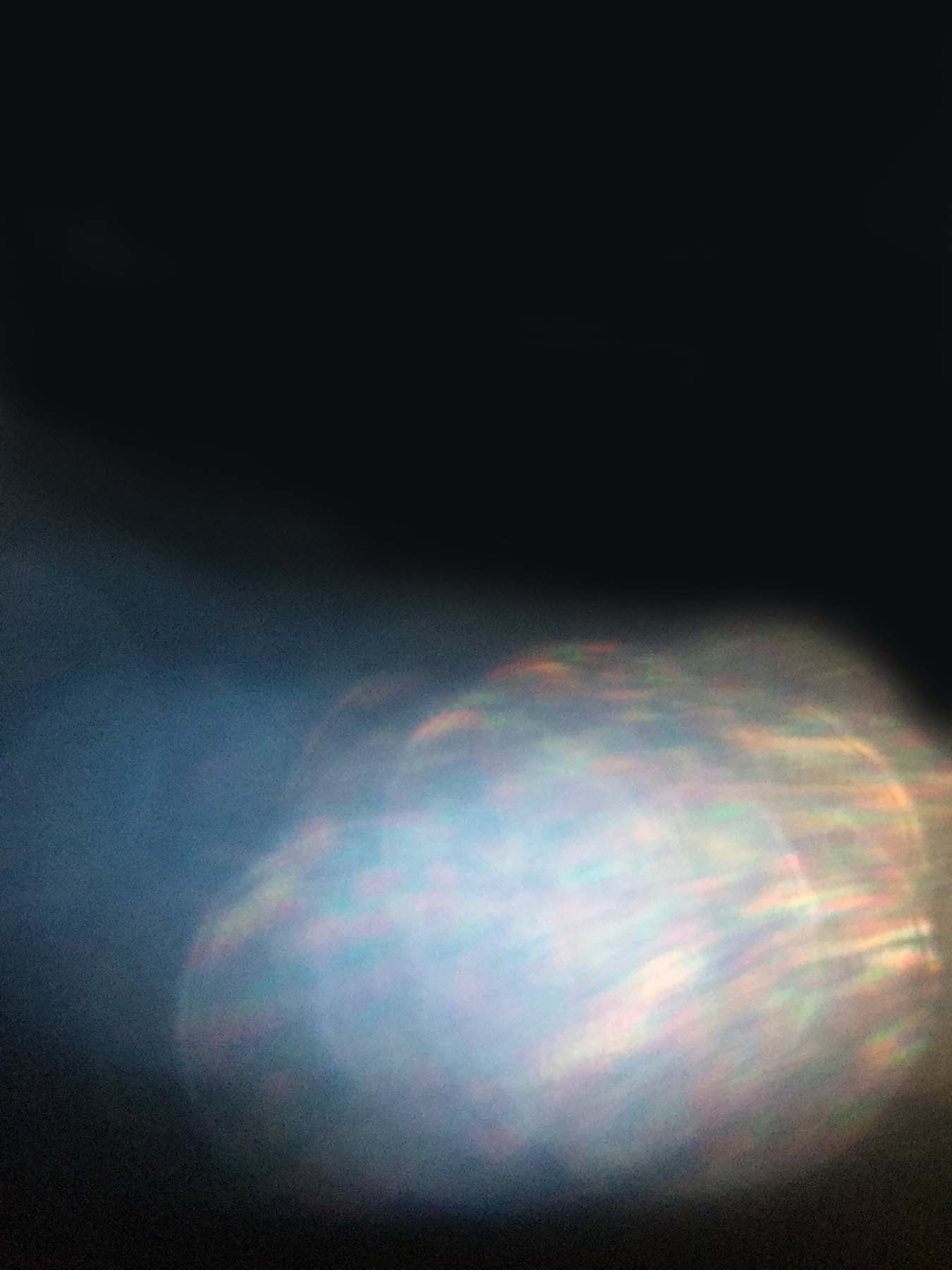 "Yes – they were my test prints, and I think in a way I prefer those smaller sized prints of Stillness. The small scale seemed to emphasise the movement in that suite of images, connecting the series as one. I always print a 4" x 6" test print, pin it up and live with it, this allows me to see. Even unfinished sculptural work gets photographed, printed as a test print, hung on the studio wall, and then lived with. I call this the fictive distance on work. It allows me to listen to what the work is relaying."
A lot of photographers would see them as the same. You know, you go to a show and you see a list – you can buy the same work in different print sizes – but you showed them to me as completely different entities from the larger works, and that struck me as very interesting.
"I do see them as different works, and that has been informed by my sculptural practice. I'll often make maquettes for the sculptural works, and that has taught me that the viewing distance between any form, or image, and the viewer, is critical, and can be played with. The same work varied in scale, emphases and can convey different aspects of itself."
This is a great point for discussion – I think it's something that as photographers we need to address. I mean, what is the role of the physical print? What am I getting here that I can't get from just an image on a phone? Would you speak to that please?
"The show – Stillness – came after years of bronze sculptural work. That last bronze show in Melbourne that I was returning from had five years' worth of time embedded in it. Bronze is slow, and photography much more immediate. I like to work across different mediums; I find they inform each other. Stillness was collected, and stored on the mobile, and I was opening project6.88, a small project space in Adelaide, and needed a first show to open with. Stillness became that show and so it moved to the next stage and was printed. Plus, it was time to give life to that found light, which had only been viewed on a device. I wanted to discover how they looked on a gallery wall, what aspects were going to work at scale, and how my human body responded to the scaled prints. I have found that an artwork has a direct relationship to the size of a human – not many artists consider that aspect. I will be showing Stillness at Praxis Artspace in May 2022, and there they will look completely different, as Praxis is a very large gallery, and the viewing distance will alter, changing the relationship between work & viewer yet again. I am looking forward to that."
Well that folds nicely back into the question of "why exhibit?" I guess. Personally I see part of the reason as that of a punctuation mark, a point at which you reflect on what's been happening and look at future directions.
"I have found that there are learnings to gather from all aspects of creating art, exhibiting included. In a solo exhibition I like to engage the space around the artwork: it's not just the work that's important, it's the negative space around that work that shapes the experience to the viewer. Again, that's the sculptural practice informing my image practice. I love install – shaping and dictating the space between wall & floor works and the viewer, and then considering the whole gallery space.
"When I left art school in 1991 I didn't really know what direction I'd take, but I knew art was the vehicle to get there. I just set myself the goal of making a little bit more work each day, each month, each year, and I told myself that I would stop if I ever fell out of love with art or if I ever ran out of ideas. Thirty years later, I'm still in love with making art and I have journals full of ideas. At this point, I feel as if I am going to run out of time before I run out of ideas."
Thanks Lee – it's been great to see this work and hear about your practice and how photography fits in and forms a part of what you do. I'm also looking forward to seeing it all come together in your show at Praxis. Good luck and I'll see you there!
Lee Salomone's next exhibition "When observations become form" runs from 5-27 May 2022
praxis ARTSPACE
68-72 Gibson Street, Bowden, SA 5007 Australia Wed–Sat 11-4pm
Telephone: 0872311974
Website: praxisartspace.com
For more on the artist: www.leesalomone.com
@leesalomone
Lee Salomone is represented by gallerysmith.com.au
Images copyright: Lee Salomone
Text copyright: Lee Salomone and David Hume
1000 Words – Lee Salomone