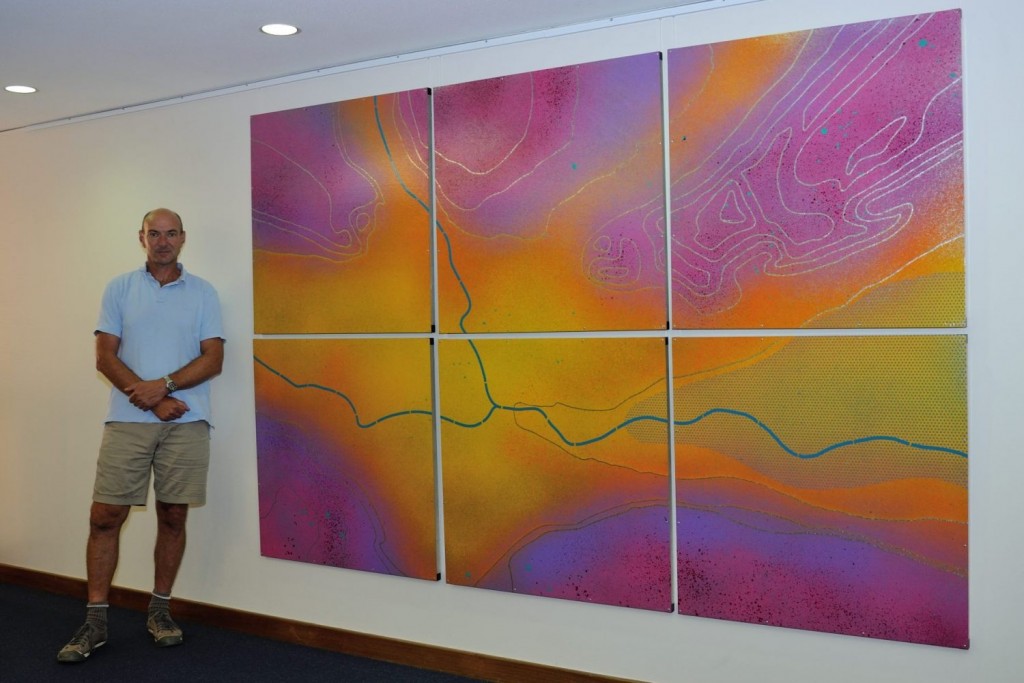 I'm a visual artist from South Australia.
I began painting in the 1980s while studying physics at uni, and it's lead me through 20 or so solo shows and many group exhibitions since then.
In 2021/2022 I'm undertaking a Masters of Contemporary Art at UniSA
This website shows work since 2010, but if you're looking for in-depth or older information, go over and poke around in the archive. There you will find a more complete list of old exhibitions, CVs, media and the like.
Please enjoy the site.
If you'd like to email me directly my address is:
david "at" davidhume "dot" net (hoping to trick spam robots)
Phone: 0418817243
David Hume: Brief Curriculum Vitae
Born:
1962, Adelaide, South Australia
Education:
2021- ongoing. Master of Design (Contemporary Art)
University of South Australia
1980-83 Bachelor of Science (Mathematical Physics, Pure Mathematics)
University of Adelaide
Selected Solo Exhibitions:
| | | |
| --- | --- | --- |
| 2022 | Canaletto's Camera The Light Gallery Adelaide | |
| 2020: | On the Beach Shimmer Photographic Festival Onkaparinga SA | |
| | I and the Beach The Light Gallery Adelaide | |
| 2018: | Conversations with Cezanne The Space Between Gallery Adelaide | |
| 2017: | Figure in the Landscape The Space Between Gallery Adelaide | |
| 2015: | Five Easy Pieces Rosey's Gallery Adelaide | |
| 2012: | La Citta Perfetta Citadel Exhibition Space Adelaide | |
| 2010: | Earth and Water Citadel Exhibition Space Adelaide | |
| 2009: | Five Seconds in Paris Citadel Exhibition Space Adelaide | |
| 2007: | Journeys Over Land Citadel Exhibition Space Adelaide | |
| 2005: | Woomera Artimages Gallery Adelaide | |
| 2002: | David Hume Artimages Gallery Adelaide | |
| 2000: | Lake Argyle Paintings A.R.T. Gallery Eden, Melbourne | |
| | Beneath the Beyond du Plessis building, Adelaide | |
| 1999: | New Australian Landscapes A.R.T. Gallery Eden, Melbourne | |
| | Beneath the Beyond. A.R.T. Gallery Eden, Melbourne | |
| 1998: | Coorong to Kimberley A.R.T. Gallery Eden, Melbourne | |
| 1997: | Andamooka A.R.T. Gallery Eden, Melbourne | |
| 1996: | Postcards from the Rock A.R.T. Gallery Eden, Melbourne | |
| 1995: | Visions of Venice A.R.T. Gallery, Melbourne | |
| | Visions of Venice Greenhill Galleries, Adelaide | |
| 1991: | Recent Watercolours Kensington Gallery, Adelaide | |
| 1990: | Paintings from Greece Kensington Gallery, Adelaide | |
| 1986: | David Hume Kensington Gallery, Adelaide | |
Recent Public Art Projects
2021-22:
Coast to Vines Rail Trail City of Onkaparinga
2021
Brown Hill Tree City of Mitcham
Cumberland Park Photowall City of Mitcham
Recent Grants and Prizes:
| | |
| --- | --- |
| 2022 | SALA Solo Photographic Opportunity |
| 2021 | Gavin Walkley Community Engagement Grant |
| 2020: | Southern Ocean Art Prize – Creative Photography Category. |
Collections:
Bankers Trust • Qantas • Walker's Corporation • Australian Consulting Partners • Jones Lang la Salle • SAPMEA • SMS Consulting Partners • Pangaea Collection • Skinner Collection
Selected Bibliography:
The Adelaide Review May 2002 Visual Arts, Shimmer – John Neylon
Australian Art Collector Magazine no8 April 1999 Undiscovered, Unmasked – Susan McCulloch
The Melbourne Herald Sun 15 July 1998 Accidental Artist – Chris Boyd
The Melbourne Age 4 July 1998 Saturday Extra
Optus Television, Peppermint Lounge Nov 1997 The Road to Andamooka
Australian Artist Magazine, no.129 March 1995 Collision Course p.36-43
David Hume – Dated 20220116