Leigh Griffiths works full time as a photographer for the digital agency Foodshot in Sydney, having started out shooting for Feast Magazine then Broadsheet and TimeOut. He grew up in Adelaide and was passionate about video as a kid. Leigh and his partner Eloise also started the travel and photography blog Strangertalk which won Sauver Magazine's Best Travel Blog award in 2017.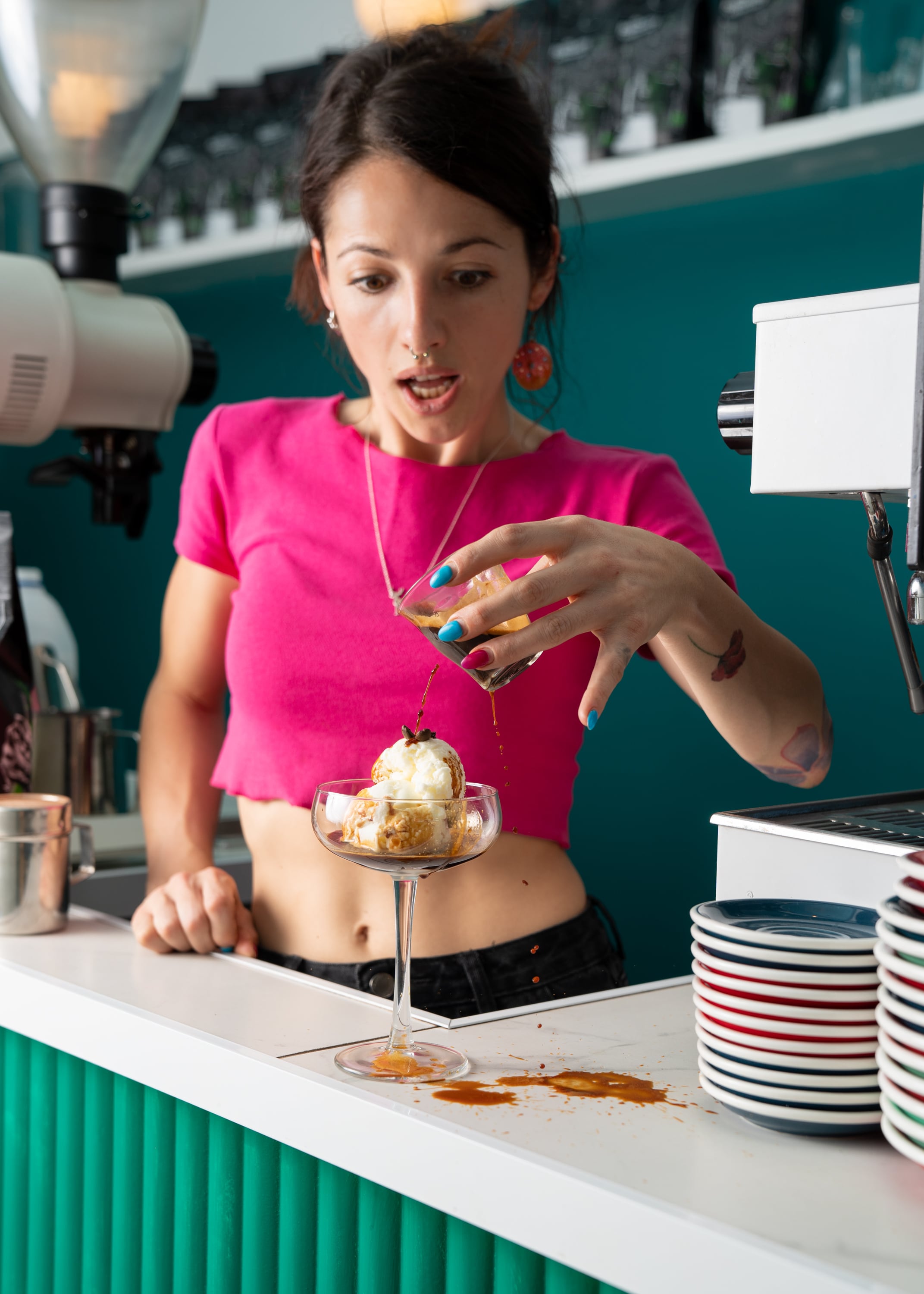 Leigh – please tell us about this shot for a cafe in Sydney. It was meant to be an affogato, but it didn't quite work.
"It's funny – when I walk in to venues I can instantly tell when I'm going to have a bit of fun and when I'm not, and that really reflects on how creative I end up being.  I guess it's a struggle for any creative, you can only do so much depending on what you're given. This was one shoot I knew was going to be a lot of fun.
"I generally have an idea of who the client is and what their visual aesthetic is, I go in and suss it out a little from the personality point of view. This person was perfect – with her I had all the character I needed, I had all the colours. I could tell that she was the personality of that cafe. This shot doesn't show the cafe, but the cafe is brightly coloured in the same colours that she was wearing, and I could tell that with her I was in for a good shoot. I knew that I wanted to use her a lot in any of the content I would be using. This was probably an hour in to the shoot, and we'd already connected, and she was more willing to try weird things.
"I'm now working full time for a digital marketing agency. The client has hired the agency's services. They want a website, social media, branding, all that stuff. I go in, and I have to produce the visual content for all that.  Now that I'm not being commissioned – now that I'm working full time  – I'm in charge of all the photography – I'm looking after the brief. I guess with my experience I know what's needed for the website, and for the other branding materials, but I also have a feel for what the client wants. It's a bit of a balancing act.
"It's different from being hired by a publication, which had been my career up to working for Foodshot. There's more of a structure to this, I have to get a certain look, framing, thinking about negative space for websites as well as Insta-ready pics for social media. So I have to provide a lot more than I usually would. It's different from working for a publication because here they're not cherry picking just the best and most interesting cafes – they need to consider the needs of their clients.  Before, with a publication they're out there looking for the best, showcasing the best.  With this work there's the challenge of being focused on the clients' needs – being focused on their brand. There's an ongoing relationship that I like. I like that I get to go back to the clients again and again."
Can you tell us about your beginnings? How you started in photography?
"I started out in video – at school I had a shitty video camera. The only way I could record was to plug it in to the TV with a long yellow cable. It was actually an up-market toy I think. I would literally press record on the VCR and record in black and white – and that was my introduction to video. It progressed from there, and through high school I was in to recording everything, and I ended up doing a TAFE course, and I did heaps of short films and documentaries with a good friend of mine, and I moved to Sydney and I started getting in to photography just because I preferred the medium. There was an instant satisfaction to it. I didn't have to worry about recording sound or having a crew. The whole production was basically reliant on me, which was nice. 
"And then luckily I ended up doing a couple of shoots. I think the first professional shoots were with Feast Magazine. My partner Eloise and I went to Indonesia – we were going there anyway – and El did a story and I ended up doing a few snaps for her – I was shooting anyway, I was shooting for fun – and that's where I realised I could make money from this. Not necessarily food, perhaps it was more culture. That was something I had always enjoyed; something I was always fascinated by. Because of El's fascination with food working for Feast I got to see food as culture, not just a means of feeding myself. I never thought I would be shooting food for work, but then when we were back home I think Broadsheet sent something out – they were needing a photographer and I applied for it, and the work I had done with El and Feast Magazine was enough to get me across the line and I did a few jobs for them. It was the same culture, and I guess that was my introduction to meeting a client, meeting a business owner.
"My first shoot was actually a florist – and the owner was doing her business literally out of her garage. I drove an hour to get there, and it was just really nice. Just her in her shed, and I was just chatting to her, and shooting her, and it was a really nice introduction, I guess, to shooting another person's art.  Documenting her art, I guess. I guess when you're shooting food you're documenting something. I approach it as documenting what's in front of me. It's how I used to approach video, and I really like that aspect of documenting something. 
"The client has to put a lot trust in to me – in to my experience. There's a lot of standard stuff each time I shoot – the ten dishes, the different plates, the different colours, but there's also the little things that I can't plan for, that happen along the way – like the affogato for instance.
"I try to be really open to suggestions from the client because they know what they are more than I do, and it makes my job more easy and more fun if I can bring that out in them. And I can't always achieve that. Sometimes it doesn't work. I don't really have a method for that. I try not to go in to it thinking too much – that's the thing. Maybe if I do that's the reason it doesn't work out or whatever. I like the intimacy of shooting a little cafe like this one.
"I don't see myself as being in any way special; I'm just a person who has picked up these skills and experiences over time. And for a long time I struggled with the idea of even calling myself a photographer – let alone a professional photographer. I think a lot of artists have that problem as well. I don't really know when that all happens – how that changes."
Thank you Leigh! I could have done another 1000 words just on Strangertalk. It's a superb piece of work and definitely worth a look at  http://www.strangertalk.co
To see more of Leigh's work you can visit his website https://www.leighgriffithslens.com
Image copyright: Leigh Griffiths.
Text copyright: Leigh Griffiths and David Hume.
1000 words – Leigh Griffiths