In 2020 I was lucky to still manage a couple of significant shows.
I and the Beach ran at the Light Gallery, Centre of Creative Photography in Adelaide.
It was part of the 2020 SALA Festival.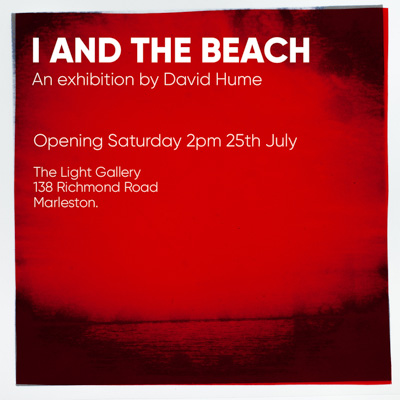 And directly after that I took part in the Shimmer Photographic Festival that was run by the Onkaparinga Council.
It was similar, and the work overlapped while managing to be a significantly different show:
Probably the best way to se this work now is by looking at a video I made with Gavin Blake, the director of the Light Gallery:
If you've enjoyed the work in the show – you might be interested in my "Summer 2020 LookBook" in which I show the kind of work I've been making in 2020:
You can also have a look at the video Fleurieu, which is a part of the exhibition:

This video was shot on a single roll of 35mm film with multiple exposures on overlapping frames.
It documents a trip along the Fleurieu coast of South Australia from Normanville to Carrickalinga, across the Myponga dam and down to Sellicks and Aldinga beach.
Video and images © 2019-2020 David Hume
The music is taken from Summer Sojourn, from Jazzin' Around for Strings by South Australian composer Kerin Bailey. © 2004 Kerin Bailey (https://kerinbailey.com.au)
Viola played by Margot Masters
Photo Essay
You may also enjoy a photo essay that speaks to the work: