Beneath the Beyond 2
Red Sky Mining - catalogue essay by Brigid Magner
Australia is carefully measured and mapped onto itself through the re-visualising process of David Hume's abstract landscapes. The calculated scenes evoked by Hume's topographic panoramas, with their ultra vivid colours and pointillist clarity, lend the Australian landscape an aura of the hyperreal.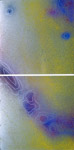 For over five years now, Hume has been composing large acrylic paintings on galvanised steel, a material which lends itself well to the depiction of local vistas. Hume's latest show, Beneath The Beyond 2 brings together aspects of his oeuvre and re-presents them in the context of the Adelaide Festival. This mid-career retrospective demonstrates Hume's evolution of style and reveals his versatility as an abstract painter.
Like fellow artist, the late Howard Arkley, Hume became more fascinated by his own country after a trip to the Northern Hemisphere. Naturally, his native terrain has always been a source of interest but he did not begin working in his current mode until after he seen other landscapes first hand.
Significantly, it was during his time in Venice that he taught himself how to appreciate the surface qualities of 'great' paintings. Here, he learned how to approach within an inch, and by doing so he noticed that there came a point where the image disappeared. For the first time ever, he was compelled to thoroughly reconsider his own practice and thereafter began to experiment with more complex visual effects. Such techniques, derived from this pivotal sojourn, are everywhere in evidence in the paintings featured in Beneath The Beyond 2. In these expansive works, well defined images may shimmer and disappear into a sea of dots upon closer inspection.
Hume's post-Venice subject matter was directly inspired by his flight back from Europe. The formations he spied through the plane window are apparent in works such as Osmond Creek and White Mountain Hills from Western Australia and Andamooka, Young Husband Peninsula and Coorong from his native South Australia. By naming his paintings after each small place, he brings these under-sung locales within our predominantly metropolitan purview.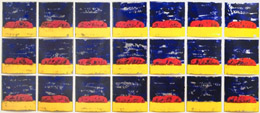 Critics of Hume's paintings could be forgiven for seeing in his strategies a direct appropriation of an imagery which signifies 'Australianness'. However, he does not simply repeat all-too-familiar scenes, instead he intentionally disrupts the use of nationalist icons. In Postcards From The Rock, Hume replicates a simplified version of Uluru over and over until it escapes recognition. In a gesture reminiscent of Warhol, Hume transforms this cliche of Australiana into something unfamiliar through the canny use of repetition.
Although this country is the starting point and inspiration for much of his painterly production, his works also succeed in transcending the particularities of place. They may be read as meditations on the Great Southern Land, or alternatively, they can function in a broader context, as colouristic exercises of aesthetic appeal.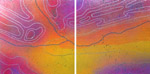 Much of Hume's recent painting has been inspired by topographic maps which he regards as 'tremendously dense ways of recording and transmitting information'. The interplay of pinks and yellows in the dramatic work Osmond Creek #2 makes the viewer dwell on the surface but also produces a 3D effect . Looking like a gaudy meteorological map, this painting is both pseudo-scientific and playful at once. Even though Hume does not intend his paintings to be as precise as topographic maps, he believes they should 'communicate the sense of wonder' he feels 'when looking at a map and trying to picture the land and all the stories that go with it'. In this way, he harbours a respect for the various layers of history existing coterminously in any given location.
While celebratory, his painting also critiques our short-sighted attitude towards our natural resources. By turns, his gaze lands upon the vexed histories of nuclear testing and mining, two troublesome issues which are rarely mentioned as liabilities in mainstream public discourse. In The Road To Andamooka, named after a documentary made by his grandfather, no-go zones are consciously mapped onto partitioned territory as floating signs for the viewer to decode. Here, a formerly beautiful red landscape becomes prosaic under the weight of human prohibitions. Similarly, his works Milkara and Jindivik reinforce his concern for the toxic repercussions of nuclear testing with their ominous conflations of bombs and planes. Through his charting of these hazardous areas so close to home, Hume implicitly critiques white men's unfortunate interventions in the landscape. The future-directed environmental movement would certainly find a champion in Hume who envisages the long term impacts of our persistent disregard for our delicate ecology.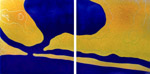 Continuing the theme of excavation, Young Husband Peninsula and its companion piece Coorong, suggest tunnels or shafts with a surrounding vivid blue expanse. Here, Hume seems to be exploring the interior and the exterior strata of the land and their complex interrelationship. Several of the works on display in Beneath The Beyond 2 suggest landforms but may also be read along more cosmological lines. Natural features reduced to their essential shapes can simultaneously be aspects of sky or space. Unhospitable slopes and barren terrain become magical as in White Mountain Hills #2 where a ring of rocks - or asteroids - dominate the frame.
Given the technical excellence of Hume's paintings, it comes as no surprise to discover that he has an accomplished background in mathematics and science. Hume's precise sensibility comes through in the way he succeeds in taming the materials he employs. Galvanised steel, the base element of his current paintings, reflects almost all the light that falls on it, giving us a sense of the unique thermoluminescence of the Australian scene. In addition, the texture of zinc crystal patterns on the surface of the galvanised steel imply notions of construction and exploration, aspects of land usage which preoccupy him. Likewise, his inventively idiosyncratic spray technique appears to serve his intentions without effort. In Hume's hands, Jackson Pollock's famous dripping and throwing procedures are rigorously reworked in a peculiarly Antipodean context.
Nonetheless, the near-perfect forms Hume produces mask an intriguing passion hovering beneath the surface. Somehow these works have the capacity to move despite, or perhaps because of, their steely accuracy. Although he does not use the same materials or employ the ceremonial methods of his indigenous counterparts, Hume's work is often mistaken for Aboriginal art. This ambiguity adds an interesting twist to the reception of his painting within the Australian art world.

The undeniable fact that some of Hume's work bears certain resemblances to some Aboriginal art practice raises the possibility that cross-cultural fertilisation is a two-way affair. While its well known that some of the most famous innovations in 20th Century Western art were inspired by forms derived from tribal art, the same may not be said for the influence of Aboriginal art on white Australians.
If we consider Hume's work as a by-product of this invisible cross-pollination, it might be argued that interactions between indigenous and non-indigenous peoples have been fertile as well as fraught. Naturally, given the complex state of race relations in Australia, his is a complicated issue, especially since indigenous people's claims to the land are being denied and forgotten while elements of their culture are being prominently displayed and affirmed. One might argue that Hume's practice has arrived at a similar place independently through his concern for the local landscape and his sensitivity to its many nuances which are usually seen as the exclusive province of Aboriginal people(s).
Since there is a preoccupation with 'authenticity' which remains powerful in the tribal art market, a white man's paintings cannot be considered in the same league at present. As a white Australian painter who produces images of uncanny resemblance to Aboriginal art, by way of very different methods, Hume occupies a curiously liminal position within the art market. Nowadays, those artists, both Aboriginal and white, working the uncharted interstices between the cultures should be less condemned to the exile of inauthenticity, and more at the edges where new kinds of relationships are being formed. Hume's painting might be read as part of the process poet Les Murray has called 'the slow moulding of all people within a continent or region towards the human form which that continent or region demands'.